Spring Ignite Night and Happy Hour
At OpenGov Hub we have so many different organizations tackling the various pieces of the opengov puzzle that learning about everyone's projects can sometimes be daunting. So once a quarter we host an Ignite Night, where a handful of willing participants can share their latest work.
Last week's Spring Ignite Night and Happy Hour was a rousing success as both our Hub community and others working in this area came together over drinks, snacks, and a love for learning...or rather perhaps a love for watching peers and friends deliver the intense Ignite talks.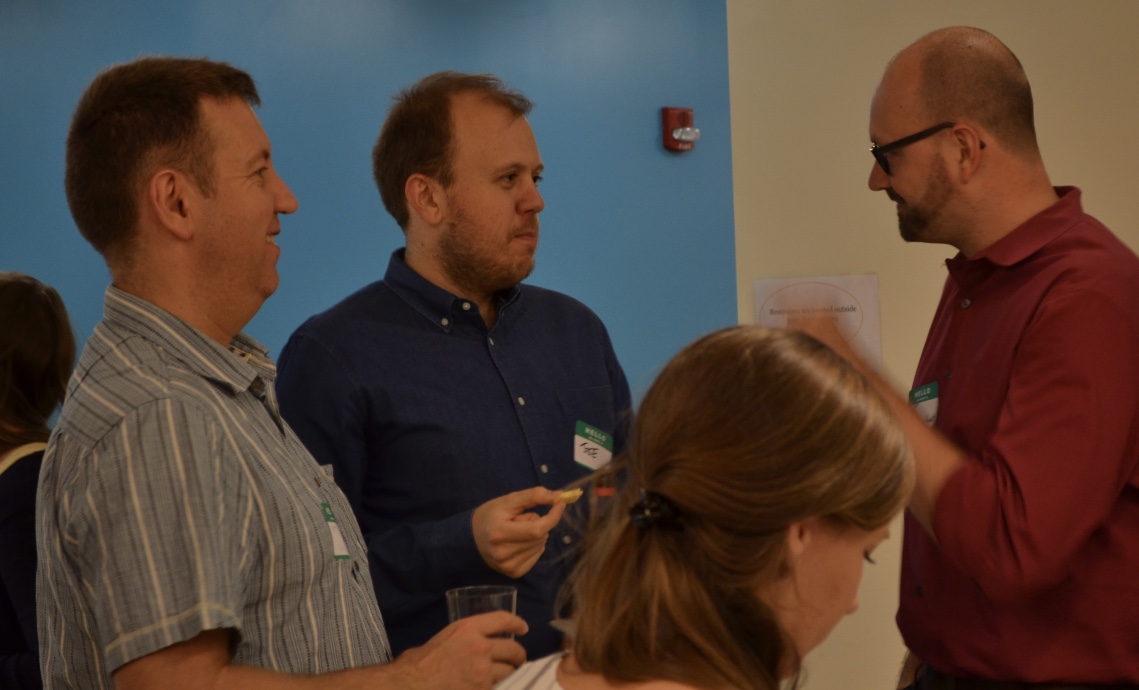 If you've never been to an Ignite presentation before, let me quickly explain it for you: each presenter works within the parameters of a 5 minute presentation made up of 20 slides that auto-advance every 15 seconds. As someone who did one of these Ignite talks, let me just tell you that 15 seconds is a lot quicker than you would imagine. The talks are meant to succinctly share a concept in an easily understood way. This is a great way to avoid meandering presentations.
Ignite Talk #1:
Rob Pitman of Natural Resource Governance Institute
"Past the Tipping Point? Contract Disclosure in Resource-Rich Countries"
Rob's Ignite Talk focused on NRGI's new report on open contracting and procurement, taking an in-depth look at what countries around the world report on and reveal regarding their natural resources. Some of the findings might surprise you.
Ignite Talk #2:
Kristi Arbogast of OpenGov Hub
"Why Your Smart Fridge Shouldn't Tell You What To Eat: The Internet of Things and Algorithmic Accountability"
Kristi Arbogast, besides being the OpenGov Hub Communications and Operations Associate, focuses on issues of digital security, internet governance, and all things surveillance and privacy. Her talk focused on the ever increasing interconnected world, its connection to governance issues, and demanding accountability for algorithms. Plus Al Gore makes a surprise appearance.
Ignite Talk #3:
Jamison Crowell of Open Data Watch
"The 2016 Open Data Inventory"
Jamison's talk focused on ODW's recently released Open Data Inventory, that is a roundup of all of the open data available around the world. The report assessed the coverage and openness of official statistics of 173 countries to provide information for research and to identify gaps that need to be filled.
Ignite Talk #4:
Maïssa Khattab of Global Integrity
"Africa Integrity Indicators"
The African Integrity Indicators are one of the flagship products of Global Integrity that is released every year. Maïssa, who was one of the lead researchers on the project, showed the audience some of the highlights of the project that focused on accountability and transparency issues of governance in every single African nation. Global Integrity's work, in particular, goes deep to highlight the discrepancies between accountability in law versus accountability in practice. You can read more here, as well as explore the data.